This report was written by Granville, with some small parts added by Dave who runs the Centre.
Granville's story of the week follows……
Arriving late Friday afternoon at the Burren Yoga and Meditation Centre after traveling from Manchester, it is a pure pleasure to be here again. This is my 10th year here teaching and how it has grown and developed over that time.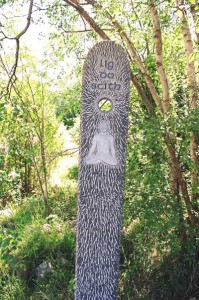 Looking in the entrance, one sees the standing stone which is a fusion of an old Celtic standing stone and a yogic figure in meditation pose.
"Lig do Scith" is Gaelic for "Take a rest" or "Put up your feet".
The literal translation means "Allow you bones", or "Lay down your bones".
As one enters the grounds one sees the main building nestled behind the trees. The Centre is set in a peaceful, tranquil location at the foot of the Burren Hills and offers spectacular views of the Burren.
It takes about 2 ½ hours to get here from London or any other airport in the UK which fly into either Galway or Shannon airports. If you opt for the more leisurely trip by ferry, trains and bus it takes a lot longer 😉
It was great to see Dave again, and it's always a bit of a curiosity to see each other from year to year as both our lives have changed somewhat in that time, and now Dave has a young family on the scene which is quite a change for anyone. After the customary hugs we exchange greetings and discuss the forthcoming yoga course that begins that evening at 19:00 with dinner at the Centre.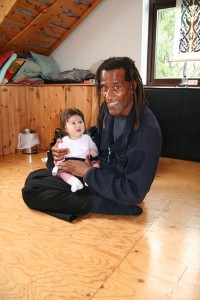 I make a visit to Dave's mobile home, just at the back of the yoga room and greet his wife Eri and for the first time their newly born daughter Shanti. Things have definitely changed since my last visit a year previous.
I retire to my usual room, just up the stairs in the main building and organize myself for the coming week. Nice to be in my regular space, it's quiet, spacious and bright. I remember gazing up at the stars through the Velux windows in the evening from my bed. So all prepared now and looking forward to meeting the guests who I'll be teaching over the next 7 days.
Dinner is a lovely way for the guests to get to meet each other, usually for the first time, get to sit down together and chat about themselves over the vegetarian feast that Paddi has prepared.
Not everyone has the same experience with yoga and meditation so I take this opportunity to get to know what experience they have had and also let them to know me a little better in the flesh. As usual there is quite a mixed bunch of people, most coming from Ireland but we also had a chap from Holland, a lady from France and some from England. All with varying backgrounds and expectations.
I like to keep the atmosphere quite light so there are a few quips of humor to keep things rolling along nicely. But with most of the course participants being Irish the atmosphere is always easy going, friendly and chatty.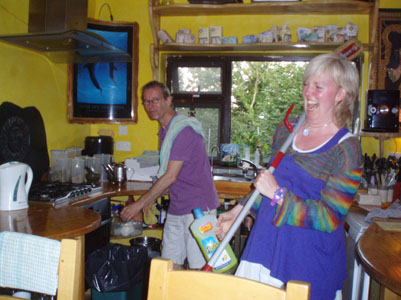 Course participants are expected to join in the 'Karma Yoga', which simply involves keeping the Centre neat and tidy and attending to such matters as doing the washing up after the meals. A rota system is worked out so it's usual that most people would be involved in setting out the meal table and washing up twice during their stay. It's not like being at home though and the little jobs help to build a friendly environment and opportunities to get to know each other.
Our evening begins with a general introduction and safety outline which is led by Dave and I can elaborate on any questions related to yoga and the way the course will run over the coming week. We both want everyone to feel really comfortable and have a great week. Of course the yoga and meditation will be challenging but that's part of the process of growth and why a concentrated time at a Centre can really move one's practice on.
Our evening session is a short introduction to meditation, and I lead this using the breath as an object of concentration. Nothing too advanced, just a way of getting started and a way of progressing during the course.
It's important to learn to sit correctly so I explain this and emphasize that it is important to be able to sit comfortably from the beginning so no heroics involved here. So our evening session begins and following the instructions we meditate together for just a 10 minute period. Evenings are also good times for questions so I encourage this during these periods after sitting, in order to clear any doubts and misunderstandings. We usually spend some time together in the kitchen over a nightcap before retiring to our beds. The days are very full and it's important to take adequate rest.
The mornings begin at 7:15 am with a guided breathing meditation. Here I recap on the introduction from the previous evening's instruction in order to make more clear our approach. These sessions during the first few days are extremely important as they set out the way ahead.
Gradually we begin to understand what meditation is and what to expect from it. Maybe we just want to find some peace in our minds, well that's fine, or maybe we want to take the practice further and see what is to be discovered when we take on a more comprehensive view and this is also dealt with as well.
The focus at the moment is simply to be able to direct our awareness to the 'Touching Sensation' created by the incoming and outgoing breath that is felt at the very tip of the nostrils. This sensation is not created nor contrived in any way. It is simply the natural sensation that we experience through the normal course of breathing in and breathing out. And that's all. Although the instructions may be simple and clear, the actual act of doing this is where the work is at. And this continual returning to the touching sensation at the very tip of the nostrils is how we begin to train the mind in breath awareness.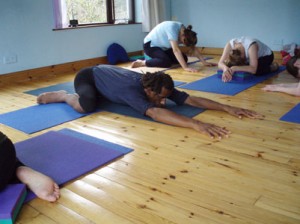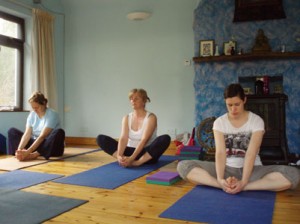 We then begin our yogAsana practice at 8:00 am which continues through until 10:00 am.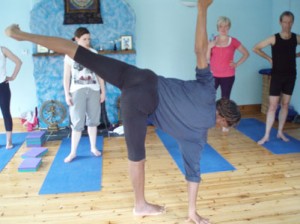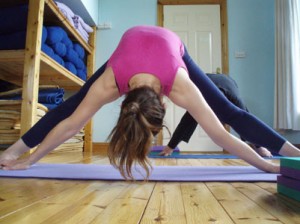 During the yogAsana session I work along with the group demonstrating the postures and showing the sequence. Again this is an important aspect of this way of practice so that the students have a visual idea of how to follow along during the session. I have purposely structured the asana in a specific way in order to gently lead the practitioner in a methodical and safe way of opening the muscles, joints and tendons thereby leading to a greater feeling of freedom and mental calm resulting from the way of practice.
We begin with static posture work, which lasts about an hour then move into more dynamic flowing poses which I show a particular way of stepping in order to avoid unnecessary loading of the back muscles and we conclude this flowing sequence with backward bending postures and inverted postures. We get very warm during this session which is great for the body and helps the flexibility enormously.
We then take brunch and prepare ourselves for a well deserved outing into the Burren countryside.
This is where our host Dave leads us on one of the many walks of varying degrees of difficulty. We always provide a challenging route for the energetic and an easier alternative for those who just want a nice stroll outdoors. And although some of these walks can be challenging the pace is more like a stroll and there is time to sit down and take in the views.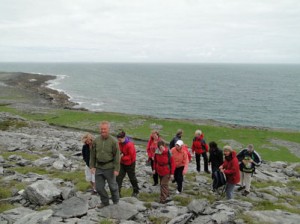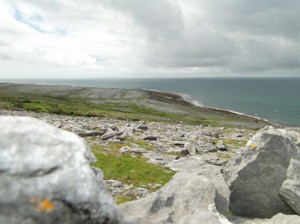 Our first walk was to Black Head, an old fort ruin that can be reached following the coast road and from where spectacular views over Galway Bay can be enjoyed.
It's pretty much a straight walk up the hill involving some scrambling but well worth the effort. This year I chose to walk along the sea shore over craggy slabs of limestone fashioned in a way only the Burren knows how.
The Burren is a spectacular area consisting of limestone hills which plunge down into the Atlantic ocean on the west coast of Ireland.
The area is truly unspoilt with hardly any houses and The Burren achieved Geopark status in 2011.
Due to geological movements of the sea bottom, what was originally the ocean floor 340 million years ago is now the rocky uplifted landscape of the Burren countryside.
There is a really informative slide show displayed at The Burren Perfumery showing the flowers and fauna of this Celtic landscape.
A few of the group took some photos of the wild flowers during the week and we have included a few of them in this report.
Each month a new range of wild flowers pops up. And even Dave sees new ones he has not spotted before
The way of life and how people over the ages have eked out a living raising cattle and fertilizing the fields with sea weed hauled up the hillside. These are very memorable occasions and very refreshing.
It's like blowing and clearing the mind of any cobwebs. We laugh allot on these journeys and some of us will even break into song. Well sometimes.
Of course after such energetic walking it's something to look forward to taking a visit to one of the many restaurants, tea houses or bars that provide delicious home made lunches. I usually choose a hot soup and the occasional homemade fruit pie or cake. Something very nice to enjoy after our encounters in the wild.
This very special tea rooms that Dave has taken us to known as the BallyVaughan tea rooms and has beautiful gardens outside.
This tea rooms was visited earlier this year by Stephen Spielberg….. so the story goes…. who flew in specially to eat the cheese cake.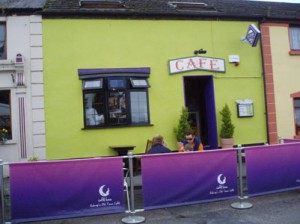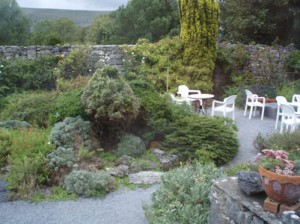 Dave says that the only reason why he ordered the cheese cake… is that he did not realize how tasty the pear and almond tart is ;-)And the savory options for lunch are as much visually inviting as they are tasty. After lunch it is nice to explore the gardens.
But let's not forget our yoga practice and to be watchful of our minds. Because what really is the point of all this yoga if we have no way of maintaining a watchful attitude during our everyday activities and keep on repeating actions that continually bring us into unwholesome states of mind. And this is the importance of daily practice.
So where does this daily practice fit in with the Master Plan? What's it all about? Well during the meditation sessions we learn about what meditation is and how to implement it into our lives.
Whilst our formal times of practice may be only of 20 minutes or so, the whole of our day is much much longer indeed. So in order to protect our minds from disturbance, in order to turn our attention to those things that free our minds from conflict, we need to maintain an awareness during our everyday activities that reminds us of our present mental state and measure ourselves. We strive towards a wholesome and compassionate attitude in life and this is the basis and cornerstone of Yoga Sadhana. And this is the Mindful way of living.
After lunch we go for a walk along Fanore beach.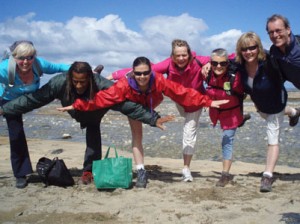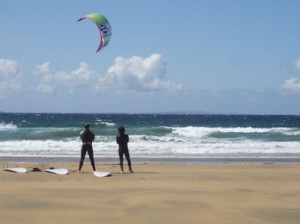 We take a long walk along the sea front of Fanore Beach, a very windy day and the waves are quite wild. This is the beach we sometimes come to for surf lessons, depending on the interest of the group. The location is on the west coast of Ireland and the waves from the Atlantic ocean are some of the best in Europe for surfing. Today it is quite windy and we are happy to keep our coats on as we stroll alog the beach and the headland looking out onto the Atlantic ocean.
Yipeee….. The views here have to be seen to be believed.
And the wind is blowing out any of those cobwebs… At places on the beach we again see these limestone rocks of The Burren. And another photo for the album. Today there are kite surfers.
Some of the group decide to go swimming so into the water they go. Not for me on this occasion but I've been in the sea here many times and one notable New Years Day in January when it was so wild and windy we had to run at the ocean in order to get amongst the waves. Fond memories. . . . . . .
This day, a few of the group brave the wind to get in for an energising dip.
The drive home takes about 35 minutes and it is great to see empty roads and spectacular scenery….. which is very typical of The Burren on the west coast of Ireland.
Back at the Centre we can now enjoy an afternoon of more gentle yoga postures in the way of a Yin or more traditional Hatha Yoga Class, where the postures are held for a period of from 3 – 5 minutes.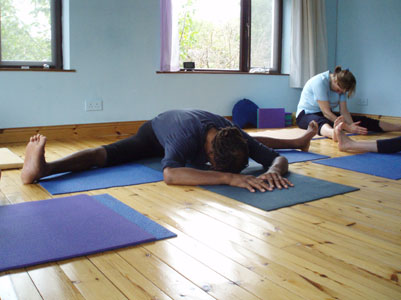 These postures are held with stillness and a relaxed alert mind accepting whatever arises during these times. We try not to encourage or push away whatever arises, but gently accept without judgement. This again is important.
Eventually we come to realize that all these manifestations that arise are only that and of an illusionary nature and not our true Self. By gradually repeating this process again and again eventually it dawns on us that these manifestations are all transitory and not everlasting, so we stop clinging to them and so become free of their influence.
These quiet sessions relate back in a very direct way to our seated meditation periods and with encouragement and explanation things start to become progressively more clear. The environment of the Centre allows for this approach to take root and gradually we begin to experience more confidence in our yoga and it's positive effect on our daily lives.
Dinner is served at 19:00 and a really lovely wholesome vegetarian spread awaits us.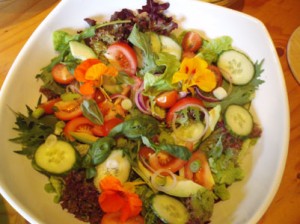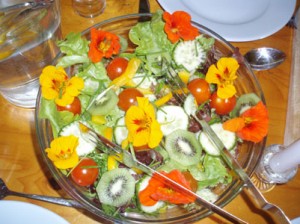 We are very fortunate at the Centre to have the benefit of Paddi who is just a superb cook, Siobhan and Eri who prepared our meals during our stay.
Really nourishing tasty food prepared by people who loves preparing this wholesome vegetarian food.
After the first day of yoga, meditation, outdoor adventures and a lot of laughing, the group are now much more chatty and lively.
The blend of yoga and the outdoor walks are an invaluable combination. A great mix that provides opportunity for everyone, and sometimes members of the group want to opt out of the walks, take a nap or just do their own thing for a few hours. That's also cool. Having the freedom to unwind is also part of the trip.
After dinner we meet for evening meditation at 20:30. During the evening sessions I recap on the previous session and we discuss any issues that may have arrived during the course of the day. The group are fairly silent and not quite sure yet as to how to bring up things so I usually initiate the proceedings by giving more instructions using analogies from my own life and instances encountered during the daytime activities. I find that this works very well and during the next few days, when the group get more familiar with things then the sessions will become more interactive and we'll be on our way.
It's just a process that takes a little while to take effect. The session takes on the format were we sit comfortably and bring our attention once again to the touching sensation at the tip of the nostrils. We meditate for 2 x 10 minuet periods.
Our conversations after the session over our evening nightcap become more free flowing now. it's a matter of reflection over the day's activities that becomes the soil for our work on our own selves.
It's hard to belive that is just the first full day here at Burren Yoga and many people remark on how much we have fitted into our first full day.
The days that follow take on a similar format. On alternate days we have no afternoon yoga class as we usually go out for a more extended walk or visit to one of the local sites of interest. The weather is a big factor as to where we head out to and as it is so changeable that we don't really decide until after our brunch.
The next day we get in the cars and head out to Mulloughmore. And on the way….. we stop at Father Ted's house which was used to film the now famous TV comedy series.
Mulloughmore is a spectacular shaped hill with a disappearing lake beneath it, and is one of the designated Geo Park areas.
This is a lovely walk that takes us up this unusually shaped hill with views of distant lakes and forged out of the ancient limestone of the ocean floor.
Again there are two routes one quite vigorous and another one more gentle.
I take the lesser rout with some of the group who prefer a stroll and we chat allot as we proceed on our journey.
Dave takes over the story……as he takes the group up the hill.
The more challenging walk begins quite easily…walking over this amazing rock formation of The Burren which used to be the bed of the sea.
I keep an eye on the group and also the weather and from time to time we stop to take in the beautiful views, take photos and just chill out.
This is the second day's outing and with the easy going Irish sense of humour, it's like we had know each other for years.
Some of the route is challenging and we take out time.
I lead the way, picking out easy footholds and keeping an eye to make sure everyone is doing ok.
The exhilaration of this brings back the feelings of being a kid again.
And some of the people in the group take a more challenging route than the easy way i have picked out.
The weather in Ireland is impossible to predict.
And this year of 2011 has been the worst for weather all over Europe, with the UK getting rain on many days and the wind getting quite strong here on the west coast of Ireland on certain days.
It takes about 50 minutes to reach the top.
And the 360 degree views are spectacular.
The Burren is an area of spectacularly shaped hills of about 30 miles long and 20 miles wide, where all one sees is this unspoilt countryside with little or no people here, hardly a house to be seen, and this is one of the reasons it was awarded Geo Park status in 2011.
It's nice to take some time to lie down in the sun, and just be aware of the silence.
Many places one goes to the countryside… one hears tractors and farm machinery.
But not in The Burren.
There is so much rock here, that there is little or no farming other than a few farmers having cattle on the hills.
We take our time walking back down enjoying the views….and meet Granville with a few of the others who preferred the more leisurely stroll and listening to Granville's stories and his tireless energy and enthusiasm explaining many aspects of yoga.
Handing the story back to Granville…..
Judging by the way the casual talks are going I notice how some of the principles that are brought up and discussed during the meditation sessions are being thought on and this is how it works. So even away from formal times in the practice room, the seeds planted there are taking root and beginning to germinate.
It's time to go for lunch and today we went to a cafe cum pub which overlooks the sea.
After lunch Dave takes us to Kinvara village which is very picturesque and today there is a festival called Crinniu na mBad which is Gaelic for the "Gathering of the boats"
The village of Kinvara has some brightly painted shops and pubs.
And we walk around enjoying the sights.
Although the festival is mainly about the gathering of the traditional sailing boats called "The Galway Bay hookers", there is also space for the younger dinghy sailors to have their own races.
There is a nice festive feeling in the village.
The traditional boats are very impressive.
And later on we head back to the Burren Yoga and Meditation Centre to be greeted by more of Paddi's great cooking smells wafting from the kitchen.
The beds at the Centre are hand carved by Johnny Ray the carpenter, and the mattresses are all hotel quality with Eqyptian cotten bedlinen and towels.
The kitchen counters and presses have also been carved by Johnny and there is a lovely organic feeling to the place.
Looking out the window of the kitchen one sees the greenery and trees surrounding the centre. Just behind the bushes out of view is the mobile home where Dave, Eri and baby Shanti live.
And after another lovely dinner by Paddi who has been preparing our dinner while we have been out and about in the Burren.
More lovely salads and edible flowers from Paddi's organic garden.
The group is now beginning to buzz like a little community.
For a while…. the conversation stops 😉
as usual Paddi has left something to tempt us with 😉
After the evening's dinner the conversations flow as we all get to know each other and learn more about each other's lives.
We have a group of very different people, and these weeks are a real opportunity to share, learn and grow.
On Mondays the schedule is a little more relaxed and some members of the group make appointments to take a massage.
A very good masseuse called Devatara comes to the Centre to do these and usually take up much to the afternoon. From what I hear these are pretty amazing so we have a lovely chilled out group, relaxed and well fed.
These take place after brunch so after the morning sessions of meditation and yoga we do not have a class until the evening meditation session after dinner.
So those not involved in massages decided to head out to Le Hinch which is about an hours drive from the Centre and is very popular with surfers. The weather was rainy and not inviting to be walking around in but I like to take the opportunity to venture out and if you have adequate wet weather gear then it can be a bit of an adventure.
We arrived and found a little cafe where we enjoyed hot coffee and chocolate. One of the girls wanted to take some photos of the surfers and whilst she went off to do that, guess what we found a leisure Centre, just on the sea front, that had a spa area so we went ahead and had a really great afternoon in the steam room, sauna, jacuzzi and swimming.
Well I've been to Le Hinch before and not known about this place. A definite plus and a lovely day out. When we met up with the member of our group who went off to photograph surfers, sadly it didn't happen. The weather was too misty. Never mind, that's reason enough for her to come back again and get those photos she longed for. . . . . This place is so full of surprises and if you are open to change then anything is possible.
After returning back to base we had some time to relax before dinner and afterwards our evening meditation session. So we have had some varied encounters during the course of the day and it's very interesting how we now start to look at how we dealt with these situations and are learning a new outlook that we can take into our lives after we leave the Centre.
Another lovely vegetarian meal has been prepared by Paddi the chef who used to run Seventh Heaven restaurant, and it is always great coming back to the Centre after a day's outing and smelling this lovely inviting flavors wafting from the kitchen.
There is always plenty of food, and for many it is difficult not to go back for seconds.
By this time we have spent 3 days working and developing our concentration on the breath. Most of the group are finding it more easy to sit still now and finding relatively steady moments of quiet and freedom away from the consistent out pouring of thoughts.
At this point I introduce another aspect of practice and we start to look at CONTEMPLATION.
This is where understanding is born and not very often taught to yoga groups. Contemplation is the act of considering an idea and allowing oneself to 'think around the subject' without bias. I like to take as a subject of contemplation 'This Precious Human Life'. Each word in potent and once we start to look at what this entails the group soon respond very well to this and it's a bit like realising and appreciating our good fortune at having this opportunity to study teachings that can lead the mind out of the labyrinth of confusion and into more clarity.
To really look at 'This Precious Human Life' we need to consider the possibility of a life that is not human. When we really look at it the lives of animals for example may look to some people more to be desirable that a human one, but when we consider the fact that animals are hunted and have to fight everyday for their food and survival, at least we don't have to do that being human.
So that is at least one benefit of a human life, the fact that it is easier to live without fear of being eaten by something bigger than you are. . . . So in this way at least we can begin to appreciate a human birth and with contemplation and discussion we may come to the conclusion that if one has a human birth, then to what purpose can we direct our life.
And this questioning is the purpose of this meditation, to direct us towards making the best use of this opportunity of life.
yogAsana
The yogAsana practice is one that develops in 3 main phases. The first part is to allow the body to limber in without pulling it into postures. It's very much a skill of taking the shape and letting the body move deeper into the posture by letting go and relaxation. As we maintain the posture there is a natural ease that occurs.
So our approach is one that encourages a softness and a sensitivity towards our immediate condition without trying to reach beyond where we are.
There is a big emphasis on targeting the hip joints and gaining more freedom of movement from here. I teach a progressive sequence that we develop over the week adding more postures and slightly longer holds in the postures as everyone becomes more familiar with the progression.
This sequence also has the added benefit of realigning the body in preparation for the second or flowing sequence of postures. This first part of the practice takes around 40 – 60 minutes.
Although based around the traditional Sun Salutations we do not actually follow this sequence religiously. Postures are mainly taken from Parvattasana or Mountain Pose and we step using either leg forwards into the various standing postures.
It's taking the posture from the ground up rather than from standing upright and bending down into the posture that makes the experience of yogAsana so different.
I adopted this method of movement in order to combat the possibility of injury and overuse of the lower back muscles. It works very well and long term lower back problems are often relieved with this approach. I explain the thinking behind the sequencing of the postures so that the group understand why they are being taught to move in this particular way. Yes it's unorthodox but it works and has a great benefit.
Then we move onto the 3rd phase which is back bending and inverted postures.
Those who are familiar with the Ashtanga Yoga Sequence will recognize the similarities here.
And those who feel up to it try out a head stand.
Some people are surprised at the postures they are doing which they thought they would never be able to practice.
There is plenty of time to share information about why we do certain postures and also give easier variations which are more accdessible.
As our bodies open up, so too do our minds and our hearts.
And inside the yoga room are some inspirational Buddhist thankas and a few statues to help remind us of our own seed of enlightenment.
Again as we take the postures we maintain an alertness and adjust our effort accordingly. Some of the group use props for the first phase and this final phase as again we are required to maintain the postures in a static way for a few minutes without strain.
The session ends with a few minutes of relaxation in Savasana. The different phases have the purpose of relaxing then toning and finally a more meditative aspect that leaves one clear headed and peaceful. It's important to balance the softness with dynamic movement in order to balance out the stretching with strengthening aspects.
Yin Yoga
Our afternoon yoga practice takes on the form of Yin Yoga where selected postures are held for a period of 3 – 5 minutes or slightly longer when appropriate.
The postures are held in a non-active way and we concentrate on any feelings or sensations that arise whilst in the process of being in the posture. It can take awhile to become comfortable with this but it's is really great to see how over the course of the week the group become more familiar and at ease with this. Again props are used where necessary and the emphasis is on being in the posture, without strain and being able to relax.
During our evening meditation sessions I now start to look at other topics of contemplation. A very interesting one that is very thought provoking is when we look at Karma and how it works in accordance with yogic understanding.
As Karma is most commonly understood as action and the result of action, by working along those lines we can see for ourselves how by doing certain actions that we have arrived at this particular point in our lives, and by changing our actions we can generate a different outcome. This is really important if we wish to develop in a way that allows us to grow as humans and showing compassion towards other living beings.
Sometimes we do things that seem ok but because we do not know the full ramifications of such doings, we actually create more harm. By looking at karma, it makes us more aware of what we do and the results thereof. We can meditate on other topics such as 'Wishing Love' to heal ourselves and our relationships towards others.
And it's nice to see that Karma Yoga has now taken on a different energy as the group begin to see the 'bigger picture' of how we can engage in tasks joyfully.
As one lets go of some of the inner conflicts that can hold us back from life, we open to much more joy and fun within the present moment.
Through a combination of the physical practices, the meditation and contemplation, the outdoor activities and also the karma yoga we begin to feel lighter and 'to be oneself'.
One thing you will always see and hear on these courses are people being themselves.
It's very important that we balance the yoga and meditation with outdoor ventures, and Dave is passionate about providing these periods as opportunities to see and enjoy the special energies of the Burren.
Getting ready in the car park of the Burren Yoga Centre nobody knows what lies ahead.
But at this stage of the week, we know that it will be good 😉
Another day Dave took us to explore Coole Park….where the famous poet W.B. Yeats used to come to visit his friend Lady Gregory.
Amongst the trees is a very nice lodge.
And a shed of turf which is used as a form of fuel for the fire within the lodge.
There is a very interesting exhibition which shows what this grand old estate was like back around the start of the 20th Century.
And the grounds outside are equally beautiful.
And there is always time to try out another cafe 😉
And at this stage it is difficult to think of life 'outside' this adventure filled week.
Are you sure we are going to lose weight on this week?
But there is always a middle path.
On the way home we pass a famous site known as Kilmacduagh where it is said that 7 monsatries have been founded.
And Paddi's dinner is there to welcome us as usual.
Paddi grows the organic vegetables herself.
And after dinner….. here we go again…
On one occasion during this holiday a couple of us had a lovely swim in Lake Bunny, a fresh water inland lake. Very refreshing. It's nice to have afternoon lunch after our walk and sea swim.
A lovely snack and hot drinks are very appreciated. I particularly enjoy the drive along the coast road and the fact that it's easy driving with very few cars on the road. Hard to do these days. But on the west coast of Ireland in this magical area known as The Burren, there are very few houses and it is mainly unspoilt natural countryside.
And it's always nice to see what Paddi has prepared for dinner.
The group are becoming more familiar with the yogAsana now and starting to feel more at ease with this approach. All very encouraging to see.
I notice that the postures become more stable with an energy that comes from this familiarity. Old injuries can repair and we can begin to experience more freedom if we learn how not to overwork those areas and to gently allow the healing and opening aspects of our practice to take place. This week of regular daily practice forms a solidity and learning that we can continue with once we return back to our homes. The meditations and discussion provide opportunity to look deeply at certain issues and to share our experiences.
After our final practice on Thursday morning, a very touching moment was when Rob, our member from Holland, spoke for the group and expressed his heartfelt appreciation for what they had enjoyed and endured over the week long course.
Dave and myself were presented with a gift each and Dave said that he appreciated this very much, and this was the first time that a group had made a formal presentation like this.
We expressed our best wishes and thanks to everyone and hoped that we would seem them again at some point in the future. I think we had a really great week.
Peace and Love,
Granville x
Special thanks to Murielle and Irina who took all the photos during their week long retreat!
Granville has a yogAsana retreat in August 2012
If you are impressed by Granville's retreat last year, you may like to read about his retreat coming up in August 2012 at
yogAsana and Meditation Granville Cousins 1