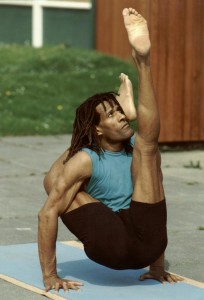 I am a practicing yoga teacher with over 40 years  practice experience and over 20 years of teaching experience. I have been fortunate to have studied with Mr. B. K. S. Iyengar at the Ramamani Iyengar Memorial Yoga Institute in Pune, India, and also with him on several workshops and classes in the U.K.
I began the practice of Astanga Vinyasa Yoga in 1993 with Michael Taylor and Elizabeth Wilson in the north of England and then more fully with Derek Ireland and Radha at "The Practice Place" in Crete. Having realized the benefits of both Iyengar and Astanga Vinyasa Yoga, I now combine into  teaching the wisdom of both these traditions. My early beginnings were in Hatha Yoga and  I am now currently developing yogAsana which utilizes the flowing sequence of Surya Namaskar as the basis for practice. More asanas, pranayama and meditation are introduced as one's proficiency develops. I continue to present my yogAsana to classes and worshops in Manchester and the U.K. and I am a frequent visitor to Ireland where I conduct weekend workshops with many yoga friends. I also lead retreats and holidays in Europe, the Middle-East and the Caribbean. My workshops and holidays are underpinned with early morning and evening meditation sessions where the practitioners are taught to  sit quietly in the midst of their own experience whilst following a guided meditation. This quiet sitting is the basis of all spiritual practices and is common to all denominations.
Through the practice of meditation we learn to understand our humanity, transcend our mortality and merge into the Bliss of True Being. With the special insight gained through this way of practice it is possible to truly change our being, become more conscious and enjoy more happiness. This is our quest, this is Yoga. May we all grow in Love and Light.
ALL BUDDHAS, BODHISAVATTVAS AND HOLY BEINGS, PLEASE PROTECT ME AND ALL LIVING BEINGS, FROM THE VARIOUS SUFFERINGS, FEARS AND DANGERS OF SAMSARA, PLEASE BESTOW YOUR BLESSINGS UPON OUR BODY AND MIND.
A special mention to my Kung Fu Instructor Chet Alexander, who personally guided me to the heights of my Black Belt 1st Dan and set me on the path of becoming a Teacher.