IYN Regional Day
19th May 2018  |   09.45 – 17.00
The Eight Limbs of Patanjali
___________________________________________________________________________
Evolution Yoga Workshop with Granville and Lucy
Venue; David Lloyd Health Club,, Barton Embankment, Trafford, Manchester, M17 8RH
Date: Saturday 9th December 2017
Time: 12:00 – 17:00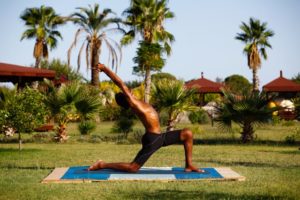 Dear YogaFriends,
We are very exited to invite you to our up and coming Evolution Yoga Workshop on Saturday 9th December 2017 at David Lloyd Health Club, Barton Embankment, Trafford, Manchester, M17 8RH.
You will be able to access the studio from 12:00 – 17:00. The workshop will commence at 12:30 with yogAsana Flow Sequence. During the Sequence more 3-point hand balances will be added to the Sequence in order to enrich your experience of the Flow.

There will be a short break for a refreshing snack of an assorted fruit dessert. Then Lucy will continue your journey with her most delightful and relaxing Yin Yoga. We have blended both flavours of yogAsana and Yin Yoga firstly on our recent holiday in Alcudia, Majorca in the summer of this year. We feel this was a great success and have been requested to follow up with this Evolution Yoga Workshop in December. The workshop will conclude with a joint 15 min guided meditation with Lucy and myself.
You can register your place with either Lucy or with me. We have been advertising this event amongst our students over the past couple of weeks and are already almost up to 50% booked up. This is a popular event so please register now as places are limited.
Cost: £35 members and £40 non members
You can contact Lucy on:
email: lucy@lotuswellbeing.life
And Granville on:
email: granville@yogawithgranville.com
Namaste and See you on the mat.
Lucy and Granville