After a 45 minute delay at Gatwick Airport and some parting words to my nearest and dearest, we eventually headed skywards towards the tropics of Jamaica. Having never visited this island, I feel curious about what I will see and meet once having landed.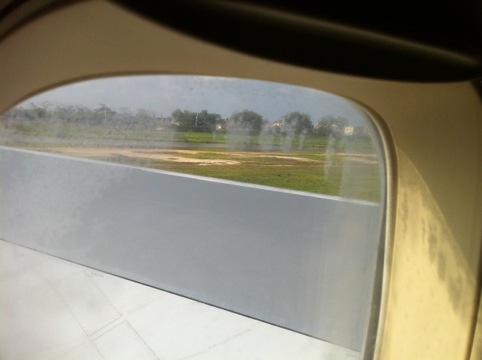 We are 9 hours into the flight and are now entering landing mode. Fasten seat belts and be prepared to meet with destiny.
Having collected our bags and met up with our driver, who will take us to the Yoga Centre, we are on the road for a 1 1/2 hour road journey. We ride through a very contrasting environment. Through little villages and towns that make me sit up with amazement at how some of the people live in very poor housing conditions some of which resemble wooden sheds covered with galvanised metal sheeting. Contrasting with properties owned by the high earnerns withthere walked gardens and cultivated vegetable areas. I feel not exited but thoughtful as scenes rush my mind of hardship and struggle, this island of varying appearances unfolding in this very moment.
As we enter the more prosperous end of town, as we enter into the town of Negril there is a definite change in the buildings and people. The Yoga Centre is opposite some very plush hotels and set just off the road in lush vegetation. We have arrived.
My room is above the yoga space with a double bed, small fridge and lovely ambience. This will be my home for the next two weeks. We eat dinner over at the hotel but the vegetarian options are not that brilliant and quite expensive. But we are here in Jamaica, so let's see what's going down.
I rise at 04:00, and this is my plan for the remainder of the holiday. Surprisingly I am not sleepy or feeling any affects of the long journey to reach here. After cleansing my body, my practice starts with Uddiyana and Nauli. In my room, I prepare my place for seated meditation and my Sadhana practice. From experience I usually sit on a pillow on the bed. This keeps me away from any crawlies that might be arround. But surprisingly we are pretty free of such which is great for us all. After 2 hours my morning Sadhana is finished and I meet my guests for meditation and yoga.
Being Easter time there is allot of activity and music, music, music. It goes on through the daytime and through to the very late hours of the morning. Jamaica certainly honours it's most famous son, Bob Marley, and I think he was responsible for founding the island, endorsing all it's produce, and forging its history. Were there any other famous Jamaican people who came from this island?? Oh yes, the fastest man on the planet, the sprinter, Usain Bolt…….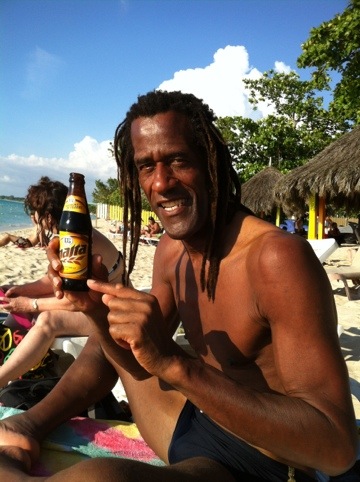 Hey Guys this is Non Alcoholic Malta Drink. Yogis must keep a clear head……..