Dates: Friday 6th – Friday 20th April Easter April 2012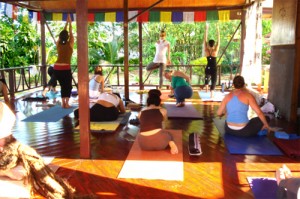 This is really happening. A fabulous yoga holiday at the Negril Yoga Centre, Negril, Jamaica. I will be teaching yoga classes over a period of 14 days at the Centre.
About The Negril Yoga Centre
AKA: "The Little Oasis" – Established 1981
Recommended by Lonely Planet Guide,
The Rough Guide, and Frommer's
Come and share "The Little Oasis" experience. The Negril yoga Centre, offers a safe haven, pampering you Heart, Mind, Body, and Soul. We offer daily Yoga Classes, Spa Services, and our kitchen provides an all natural cuisine with Foods and fresh juices created special for you and your dietary needs.
Enjoy Negril's beaches, water sports, market and night life, and return to the Centre to indulge in a massage, a private yoga class, or an hour swaying in the hammock. We welcome guest teachers or massage therapists, and have hosted workshops for small groups.
We have a cook on call who can prepare to order a natural breakfast or vegetarian dinner, which you can enjoy under a palm tree in our garden seating. Any dietary requirements can be handled with ease. Nowhere else in Negril is the tranquil, intimate atmosphere you need to offset the stress you left behind. Palm trees, fruit trees, flowers and birds fill the grounds, which house only seven cottages and villas.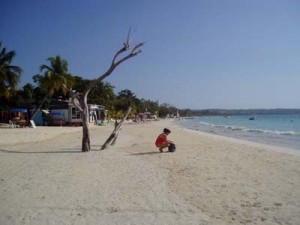 There is no bar, no pool, no dance club at the Centre which keeps our prices low, and our ambience low-key. An open-air pavilion welcomes you to meditate at sunrise, stretch out at sunset, or join a yoga class.
Just across the road from the beach. There is a variety of vegetation and trees surrounding the compound. During the day you can hear and see the beautiful birds flying through the trees while making nests and chirping. The colorful butterflies abound and most of all the National Bird -"Doctor Bird" can be seen feeding on nectar from the beautiful flowers. In the quite of the night, you can hear the different sounds of crickets. The way of life that brings travelers back to Jamaica year after but miles away in feeling from a traditional hotel or motel where you're one of many patrons.